Flexible Programs

proven

monitor technology


full-service

equipment maintenance


customized

monthly plans


lab-certified

test data


1-hour

report turnaround*
With our monitor programs, you're not just our customer.
You're an affiliate.
Premium support for you and your business.
We want your radon inspection business to thrive. So we're here for you at every step. Our monitor programs all include full-service equipment maintenance, as well as support for every issue or question you may have.
We've got you covered.
If your state requires licensing and special reporting, we can take care of that as well. With everything from audit support, to your technician license management, we are your "partner" in the radon testing business.
We handle the test data and prepare every report.
Our lab receives your test data via a phone line, or via your Android™ or Windows® device, so we can return your finished report fast. We take the hassle out of the process by having an actual person review your test results and compile your reports for you - usually less than an hour after upload.*

* 1-hour turnaround during normal business hours. High volume times may take up to 2 hours.
---
Choose one or more of our
three flexible pricing programs.
All of our monitor lease programs get the benefits mentioned above.
We have created these month-to-month programs to help you customize your needs for cost-savings, accuracy, and convenience.
---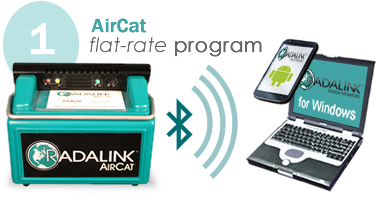 The AirCat flat-rate program boasts the technology and convenience of our newest state-of-the-art radon monitor. This Bluetooth-enabled monitor allows you to control it and upload test data directly from your Android™ or Windows® device. This program includes an unlimited number of reports processed for a fixed monthly rate.
AirCat Specs | Service Details | Pricing
---
The TeleMonitor flat-rate program is a money-saving alternative to our per-test program for monitors that will see frequent monthly use. This program allows you to upload an unlimited number of radon tests via phone line to us for processing - all for one low monthly fee.
TeleMonitor Specs | Service Details | Pricing
---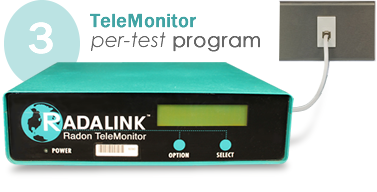 The TeleMonitor per-test program is perfect for new inspectors, who are just beginning to build their radon testing service, or for inspectors who need to have an extra monitor or more on stand-by for busy periods. Our TeleMonitor uses a phone line to upload data to our lab. With this program, you will be charged one low monthly fee per TeleMonitor that you lease, and then we'll bill you later for each processed test.
TeleMonitor Specs | Service Details | Pricing
---
How does it
work?
Get a bird's eye view.
You'll find an easy explanation of how our system works, as well as other useful and technical information in the Learning Center section of this website.
What does it
cost?
Our pricing is based on the program you select and the number of monitors you want. If you're interested in partnering with us, please select from the following: